The Angler is a Tier 6 ship in the Nautic Series mod. It rapidly fires 4 identical lasers from the front. Like all ships in Nautic, this is based off of a real-life counterpart. This ship is exceptionally fast, and very agile. However where it lacks in offense surely makes up for in Total Shield and DPS. It is good in mining/healing without any upgrades (except energy regen, which must be maxed) but also good in attacking when fully upgraded. It can be thought of as a Marauder, but stronger.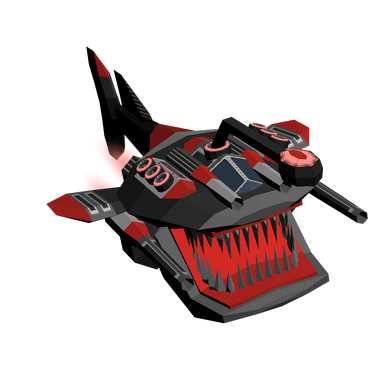 Strategy
[
]
It is recommended to have 5 mining pods from tier 5, then upgrade to this, buy another mining pod, then mine out asteroids and DO NOT fight with any ships yet because that means literal DEATH. Quickly max this ship, contribute a full cargo, then sell all mining pods, buy secondaries, and then go killing, if you wish to.
If you don't want to risk yourself with killing or healing attackers, keep the mining pods and continue mining and contributing for Tier 7.
Cannons
[
]
| Type | Energy Per Shot (Min/Max): | Damage (Min/Max): | Velocity (Min/Max): | Mirrored: | Recoil: | Frequency: | Error: | Bullets Spread Angle (Degree(s)): | # Of Lasers: |
| --- | --- | --- | --- | --- | --- | --- | --- | --- | --- |
| Stream | 16/22 | 8/11 | 180/200 | true | 0 | 4.5 | 0 | 0 | 1 |
| Type | Energy Per Shot (Min/Max): | Damage (Min/Max): | Velocity (Min/Max): | Mirrored: | Recoil: | Frequency: | Error: | Bullets Spread Angle (Degree(s)): | # Of Lasers: |
| --- | --- | --- | --- | --- | --- | --- | --- | --- | --- |
| Stream | 16/22 | 8/11 | 180/200 | true | 0 | 4.5 | 0 | 0 | 1 |