Jurassic World: Dominion Dominates Fandom Wikis - The Loop
Play Sound
The Aries is a Tier-7 ship in Starblast.io, so it cannot be upgraded to anything. It can be upgraded from the Barracuda and the O-Defender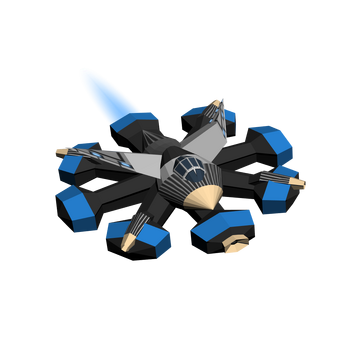 It fires one slow frontal pulse that does gigantic damage and has immense knockback, as well as four moderate lasers from the four sides at roughly right angles. While having quite impressive statistics, the Aries' agility and speed means it can be overwhelmed by smaller and faster ships. Even the X3 is a threat as long as the X3 does not get hit unless you want to get through backwards fast and lose a fair amount of health.
It is the slowest and 2nd least agile ship in the game, but has the largest shield capacity in the game and has insane regeneration, making this ship superior at mining.
However, in invasion mode, this is the best possible ship to get, its moderate damage lasers at right angles prove an advantage over the overwhelming aliens.
Also due to its size and huge shield capacity, it is a good ship for dueling the Odyssey or Bastion since it can take many hits and doesn't receive immense knockback. However, an Odyssey can still kill you, if he deactivates the RCS and moves away from your Aries with his pulse, while at the same time giving big damage in your Aries. The Odyssey can also sit and keep flying at you because the Odyssey's pulse does insane damage. The same ships that can take down an Odyssey can take down the Aries.
Beware of U-Snipers and A-Speedsters as U-Snipers have high damage and superior range,and A-Speedsters have high speed and high agility.

Fun Fact: The main pulse on this ship does just as much damage as the main pulse on the Advanced-Fighter.
Cannons
[
]
| Type | Energy Per Shot (Min/Max): | Damage (Min/Max): | Velocity (Min/Max): | Mirrored: | Recoil: | Frequency: | Error: | Bullets Spread Angle (Degree(s)): | # Of Lasers: |
| --- | --- | --- | --- | --- | --- | --- | --- | --- | --- |
| Pulse | 150 | 150 | 110 | false | 0 | 0.7 | 0 | 0 | 1 |
| Type | Energy Per Shot (Min/Max): | Damage (Min/Max): | Velocity (Min/Max): | Mirrored: | Recoil: | Frequency: | Error: | Bullets Spread Angle (Degree(s)): | # Of Lasers: |
| --- | --- | --- | --- | --- | --- | --- | --- | --- | --- |
| Stream | 30 | 15 | 200 | true | 0 | 4 | 0 | 0 | 1 |
| Type | Energy Per Shot (Min/Max): | Damage (Min/Max): | Velocity (Min/Max): | Mirrored: | Recoil: | Frequency: | Error: | Bullets Spread Angle (Degree(s)): | # Of Lasers: |
| --- | --- | --- | --- | --- | --- | --- | --- | --- | --- |
| Stream | 30 | 15 | 200 | true | 0 | 4 | 0 | 0 | 1 |
Closest upgrade path (KEST)
Upgrades from
Upgrades to

N/A
Closest upgrade path (Vanilla)

Upgrades from
Upgrades to

N/A