A fairly generalist t6 Support Class, with a single main pulse and 2 smaller cannons on each of the sides, with high shielding and mass, decent mobility with lower rotation than average, and decent energy.
The main drawbacks of this ship are it's main pulse's low fire rate for it's damage, with only barely enough DPS to drain the ship's energy, as well as the larger-than-average size of the ship making a large target.
Despite these drawbacks, it is still a strong ship, good for multiple playstyles. Chances are, if you like things like the Scorpion or O-defender in vanilla, you will not dislike this ship, and you may find it very fun to play with.
A fast miner, an a good fighter, an overall good choice.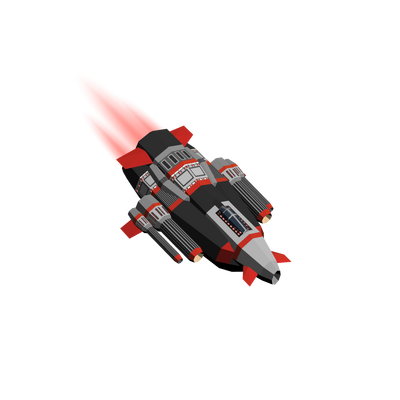 Cannons
[
]
| Type | Energy Per Shot (Min/Max): | Damage (Min/Max): | Velocity (Min/Max): | Mirrored: | Recoil: | Frequency: | Error: | Bullets Spread Angle (Degree(s)): | # Of Lasers: |
| --- | --- | --- | --- | --- | --- | --- | --- | --- | --- |
| Pulse | 41/66 | 41/66 | 150/200 | false | 100 | 1 | 0 | 0 | 0 |
| Type | Energy Per Shot (Min/Max): | Damage (Min/Max): | Velocity (Min/Max): | Mirrored: | Recoil: | Frequency: | Error: | Bullets Spread Angle (Degree(s)): | # Of Lasers: |
| --- | --- | --- | --- | --- | --- | --- | --- | --- | --- |
| Stream | 8/14 | 4/7 | 100/150 | true | 0 | 7 | 0 | 1.5 | 0 |
| Type | Energy Per Shot (Min/Max): | Damage (Min/Max): | Velocity (Min/Max): | Mirrored: | Recoil: | Frequency: | Error: | Bullets Spread Angle (Degree(s)): | # Of Lasers: |
| --- | --- | --- | --- | --- | --- | --- | --- | --- | --- |
| Stream | 4/10 | 2/5 | 100/150 | true | 0 | 7 | 0 | 1.5 | 0 |