A large heavy ship that has a huge pulse and mediocre energy regen. It has decent agility and works well for killing teams. Like all pulse ships, you should only use the side lasers if your enemy has health lower than 20 and is stunlocked.
this ship is really OP in other ways except for speed, agility, and energy regen. If maxed, you need to wait 3.4 seconds to fire the main pulse. Obviously, don't upgrade damage before upgrading energy regen, which makes the pulse take 5.63 seconds to recharge.
if damage and energy is maxed, the main pulse is OP that one-shot most ships with NO gems.
does REALLY good with speedster class ships, but vulnerable to heavy class ships.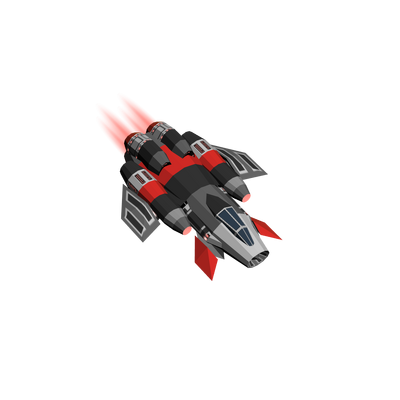 Cannons
[
]
| Type | Energy Per Shot (Min/Max): | Damage (Min/Max): | Velocity (Min/Max): | Mirrored: | Recoil: | Frequency: | Error: | Bullets Spread Angle (Degree(s)): | # Of Lasers: |
| --- | --- | --- | --- | --- | --- | --- | --- | --- | --- |
| Stream | 120/180 | 120/180 | 110/145 | false | 120 | 1 | 0 | 0 | 0 |
| Type | Energy Per Shot (Min/Max): | Damage (Min/Max): | Velocity (Min/Max): | Mirrored: | Recoil: | Frequency: | Error: | Bullets Spread Angle (Degree(s)): | # Of Lasers: |
| --- | --- | --- | --- | --- | --- | --- | --- | --- | --- |
| Stream | 20/30 | 10/15 | 140/190 | true | 0 | 2 | 0 | 0 | 0 |