Obi-Wan Finale - The Loop
Play Sound
The Fin Whale (formerly Blue Whale) is a Tier 7 ship in the Nautic Series mod. It fires one main pulse and 4 auxiliary lasers from the front. The main pulse can disable shields, while the secondary lasers slightly stun the enemy and finish them off. The ship is pretty slow, so faster ships can use that to escape.
The Fin Whale and Cachalot are kind of like the Odyssey and Aries. The Fin Whale is like the Odyssey and the Cachalot is like the Aries, because the Fin Whale has recoil unlike the Cachalot, as well as a faster pulse and slightly less shield. However, the Fin Whale is like the Aries and the Cachalot is like the Odyssey in pulse damage.
The main disadvantage of it is the horrible energy regen (same as a maxed Dolphin) and its huge size. It often goes into stunlock when attacking alone, as enemy ships can focus firepower on it. A skilled Tier 5 can possibly defeat it, due to low tier difference in terms of stats.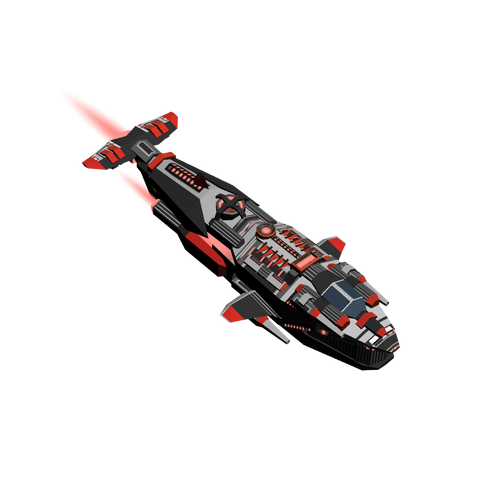 Cannons
[
]
| Type | Energy Per Shot (Min/Max): | Damage (Min/Max): | Velocity (Min/Max): | Mirrored: | Recoil: | Frequency: | Error: | Bullets Spread Angle (Degree(s)): | # Of Lasers: |
| --- | --- | --- | --- | --- | --- | --- | --- | --- | --- |
| Pulse | 160/160 | 160/160 | 250/250 | false | 300 | 0.5 | 0 | 0 | 1 |
| Type | Energy Per Shot (Min/Max): | Damage (Min/Max): | Velocity (Min/Max): | Mirrored: | Recoil: | Frequency: | Error: | Bullets Spread Angle (Degree(s)): | # Of Lasers: |
| --- | --- | --- | --- | --- | --- | --- | --- | --- | --- |
| Stream | 40/40 | 20/20 | 200/200 | true | 0 | 3 | 0 | 0 | 1 |
| Type | Energy Per Shot (Min/Max): | Damage (Min/Max): | Velocity (Min/Max): | Mirrored: | Recoil: | Frequency: | Error: | Bullets Spread Angle (Degree(s)): | # Of Lasers: |
| --- | --- | --- | --- | --- | --- | --- | --- | --- | --- |
| Stream | 40/40 | 20/20 | 200/200 | true | 0 | 3 | 0 | 0 | 1 |