This ship is no longer playable

This ship was replaced with Marauder after June 12th, 2019. Information about this ship will be archived. However, the ship is still playable in Rumble just with different stats than it had in Vanilla.
H-Mercury
is a retired Tier 6
ship
in
Starblast.io
which was replaced by the
Marauder
. It is also a ship in the
KEST
mod. It is a Tier 6 version of the
Mercury
, sacrificing the pulse for one very rapid frontal laser and four converging lasers from the sides. This unique shot style makes it a good mining ship and it can fire at very long range. However, it was more of a tank when fighting other players and couldn't fight back effectively. It also took large knockback due to its mass, and took time to recover due to its size and low agility.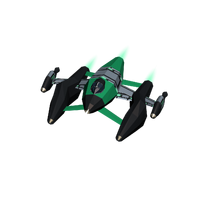 It proved to be easily annihilated by most ships. As a result, this was not a good choice of ship at all. It was rumored that the H-Mercury would have received buffs (which could be considered to have happened when it was succeeded by the
Marauder
.) The H-Mercury had average speed for a level 6 ship but was not the strongest even when fully upgraded. It had the 2nd slowest turning rate of the tier-6 ships, beating only the
O-Defender
, had relatively low mass, and very weak firepower and not very strong shields. It was also large, wide, and very easily hit. The relatively unique style of firing was not very helpful against enemy vessels, despite the converging shots. Because of the lack of firepower the best secondary to use with this ship was Attack pods.
While the H-Mercury resembles the Mercury and was meant to be an upgrade to it, it had very different firing characteristics. the H in its name likely stood for Hose, as in Bullet Hose.
It was likely replaced because it was considered by most to be the worst ship in relation to its tier.
This ship was the first to be replaced completely by another ship, the Marauder It's still active with a buffed version in Rumble
Cannons
[
]
| Type | Energy Per Shot (Min/Max): | Damage (Min/Max): | Velocity (Min/Max): | Mirrored: | Recoil: | Frequency: | Error: | Bullets Spread Angle (Degree(s)): | # Of Lasers: |
| --- | --- | --- | --- | --- | --- | --- | --- | --- | --- |
| Stream | 7/12 | 7/12 | 100/150 | false | 0 | 8 | 0 | 0 | 1 |
| Type | Energy Per Shot (Min/Max): | Damage (Min/Max): | Velocity (Min/Max): | Mirrored: | Recoil: | Frequency: | Error: | Bullets Spread Angle (Degree(s)): | # Of Lasers: |
| --- | --- | --- | --- | --- | --- | --- | --- | --- | --- |
| Stream | 4/8 | 2/4 | 150/200 | true | 0 | 4 | 0 | 0 | 1 |
| Type | Energy Per Shot (Min/Max): | Damage (Min/Max): | Velocity (Min/Max): | Mirrored: | Recoil: | Frequency: | Error: | Bullets Spread Angle (Degree(s)): | # Of Lasers: |
| --- | --- | --- | --- | --- | --- | --- | --- | --- | --- |
| Stream | 8/18 | 4/9 | 150/200 | true | 0 | 1.5 | 0 | 0 | 1 |
Closest upgrade path (Vanilla)

Upgrades from
Upgrades to
Closest upgrade path (KEST)
Upgrades from
Upgrades to