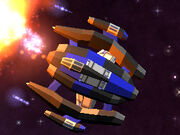 This Support Class will likely be familiar to older Starblast players, being a remodeled and buffed version of the original H-Mercury from vanilla.
With a distinctive bullet hose firing pattern and high energy regen, this ship has a significant damage output, with decent shielding too. For it's size, it is quite frail, however makes up for this with surprising mobility, and is quite heavy, unlike the original H-Mercury of vanilla.
Overall, a decent ship for those who like bullet hose-type firing patterns.
Cannons
[
]
| Type | Energy Per Shot (Min/Max): | Damage (Min/Max): | Velocity (Min/Max): | Mirrored: | Recoil: | Frequency: | Error: | Bullets Spread Angle (Degree(s)): | # Of Lasers: |
| --- | --- | --- | --- | --- | --- | --- | --- | --- | --- |
| Stream | 4/7 | 4/7 | 100/150 | false | 0 | 8 | 0 | 0 | 0 |
| Type | Energy Per Shot (Min/Max): | Damage (Min/Max): | Velocity (Min/Max): | Mirrored: | Recoil: | Frequency: | Error: | Bullets Spread Angle (Degree(s)): | # Of Lasers: |
| --- | --- | --- | --- | --- | --- | --- | --- | --- | --- |
| Stream | 6/10 | 3/5 | 150/200 | true | 0 | 4 | 0 | 1 | 0 |
| Type | Energy Per Shot (Min/Max): | Damage (Min/Max): | Velocity (Min/Max): | Mirrored: | Recoil: | Frequency: | Error: | Bullets Spread Angle (Degree(s)): | # Of Lasers: |
| --- | --- | --- | --- | --- | --- | --- | --- | --- | --- |
| Stream | 8/16 | 4/8 | 150/200 | true | 0 | 1.5 | 0 | 3 | 0 |