Jurassic World: Dominion Dominates Fandom Wikis - The Loop
Play Sound
The Hammerhead Shark is a Tier 6 ship in the Nautic Series mod. It is a direct upgrade to the Sawfish given their nearly identical shot pattern; 2 fast firing cannons at the front and one fast firing cannon at the back to propel the ship forward. This ship can be thought of a Rock-Tower for its mining ability but stronger in firepower yet weaker in mass.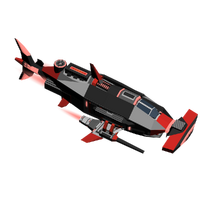 Strategies
[
]
For
[
]
This ship is OP in the sense that it can deal over 500 damage to an enemy while knocking the enemy back and isolating it, and at the same time propel the ship forward to land more shots in. It easily shreds other lone T6 ships and does surprisingly well against teams.
This ship is also the fastest Tier 6 miner, with its 165 DPS, almost as high as the Colossal Squid's 175 DPS.
Against
[
]
But this ship still has weaknesses. You need to be careful because it has a large size, so it is easy to hit and is killed in seconds if the team decides to unleash all their firepower toward it. Also, its mass is not that high, so the Narwhal and Orca have stronger dashes and can knock it into asteroids. Even the Tier 3 Squid can easily beat this ship in a 1v1 by ramming it into asteroids.
Cannons
[
]
NOTE: The maximum firing rate of cannons was capped for all ships to reduce lag in mods. The Hammerhead Shark's fast firing cannon is affected by this. In real games it shoots slower than originally intended but has higher damage to compensate.
| Type | Energy Per Shot (Min/Max): | Damage (Min/Max): | Velocity (Min/Max): | Mirrored: | Recoil: | Frequency: | Error: | Bullets Spread Angle (Degree(s)): | # Of Lasers: |
| --- | --- | --- | --- | --- | --- | --- | --- | --- | --- |
| Stream | 20/28 | 10/14 | 200/220 | true | 0 | 12 | 0 | 0 | 1 |
| Type | Energy Per Shot (Min/Max): | Damage (Min/Max): | Velocity (Min/Max): | Mirrored: | Recoil: | Frequency: | Error: | Bullets Spread Angle (Degree(s)): | # Of Lasers: |
| --- | --- | --- | --- | --- | --- | --- | --- | --- | --- |
| Stream | 17/25 | 17/25 | 200/220 | false | 160 | 5 | 0 | 0 | 1 |