Similar in function to vanilla's Vanguard, this Support Class ship is lightly shielded and not that mobile, but packs quite a lot of firepower.
2 medium cannons on each side for a total of 4 make this ship able to output a lot of damage quickly, especially given it's high energy regen, but do be careful of the high recoil.
The small size and decent mobility means this ship can dodge quite well, especially paired with the momentum boosts from recoil.
Overall, a decent ship for players who like ships like the U-Sniper, though as it is a t4, don't expect to fight t6s and win.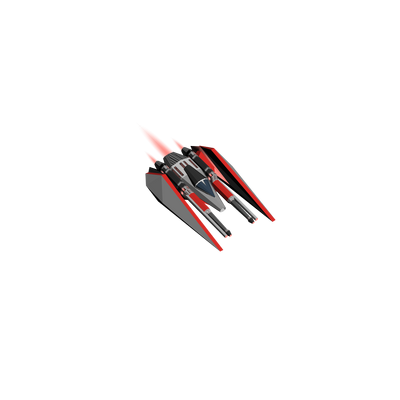 Cannons
[
]
| Type | Energy Per Shot (Min/Max): | Damage (Min/Max): | Velocity (Min/Max): | Mirrored: | Recoil: | Frequency: | Error: | Bullets Spread Angle (Degree(s)): | # Of Lasers: |
| --- | --- | --- | --- | --- | --- | --- | --- | --- | --- |
| Pulse | 36/50 | 18/25 | 170/200 | true | 85 | 3 | 0 | 0 | 0 |
| Type | Energy Per Shot (Min/Max): | Damage (Min/Max): | Velocity (Min/Max): | Mirrored: | Recoil: | Frequency: | Error: | Bullets Spread Angle (Degree(s)): | # Of Lasers: |
| --- | --- | --- | --- | --- | --- | --- | --- | --- | --- |
| Pulse | 36/50 | 18/25 | 170/200 | true | 85 | 3 | 0 | 0 | 0 |
Closest upgrade path (MCST)
Upgrades from
Upgrades to