Mercury is a Tier 4 ship in Starblast.io. It one of two Pulse-Type Tier-4 ships, the other being the Vanguard. The Mercury fires a large frontal pulse and two smaller slightly converging small lasers from the sides similar to the Pulse-Fighter. It is a relatively large ship with average mass, that moves at a good speed and has good acceleration for its maxed speed. It is incredibly efficient with energy and can fire many times before running out. With max energy regen, it never runs out, unless damage is upgraded.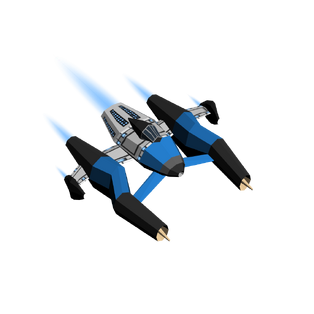 When playing the Mercury, it is best to upgrade Damage (Do not upgrade Damage if you are a miner) and Ship Speed first, due to its nearly inexhaustible energy reserves. The side-lasers prove virtually useless, and the main shot must be aimed well. Un-upgraded, the Mercury is weaker than other ships of its tier. A fully-upgraded Mercury is still not a match against most ships, however, is able to beat the Side-Interceptor, and potentially the Crusader in a duel, both from its tier. Though in Team Mode, the Mercury has an advantage over other ships with attack pods which are easy to get due to it's fast mining abilities.
The Mercury upgrades to the super agile but statistically weak FuryStar, or the T-Warrior, which is a great miner and can be incredibly strong up close but is horrible at long-range combat. However it is the only ship in T4 with a main pulse, which gives it an advantage over ships that don't.
Cannons
[
]
| Type | Energy Per Shot (Min/Max): | Damage (Min/Max): | Velocity (Min/Max): | Mirrored: | Recoil: | Frequency: | Error: | Bullets Spread Angle (Degree(s)): | # Of Lasers: |
| --- | --- | --- | --- | --- | --- | --- | --- | --- | --- |
| Pulse | 20/40 | 20/40 | 170/200 | false | 0 | 1 | 0 | 0 | 1 |
| Type | Energy Per Shot (Min/Max): | Damage (Min/Max): | Velocity (Min/Max): | Mirrored: | Recoil: | Frequency: | Error: | Bullets Spread Angle (Degree(s)): | # Of Lasers: |
| --- | --- | --- | --- | --- | --- | --- | --- | --- | --- |
| Stream | 6/10 | 3/5 | 150/180 | true | 0 | 4 | 0 | 0 | 1 |
Closest upgrade path (Vanilla)

Upgrades from
Upgrades to
Closest upgrade path (KEST)
Upgrades from
Upgrades to
Closest upgrade path (MCST)
Upgrades from
Upgrades to