The Orca is a Tier 6 ship in the Nautic Series mod. It fires high damage pulses from the front rapidly (350 DPS when maxed) with a dash, making it a very good ship for surprise attacks. When the energy is low is will only shoot lasers and will not dash. You could be in danger if you use up your energy in combat. Skipping bullet speed upgrades might make it easier to escape.
It is somewhat similar to the Hammerhead Shark, but it is heavier (more knockback when ramming) and mines slower (less energy regen).
The Narwhal can be used to ram the Orca, as it is heavier and has a better dash, while underestimated. The Beaked Whale is also a good choice.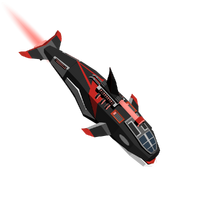 Cannons
[
]
| Type | Energy Per Shot (Min/Max): | Damage (Min/Max): | Velocity (Min/Max): | Mirrored: | Recoil: | Frequency: | Error: | Bullets Spread Angle (Degree(s)): | # Of Lasers: |
| --- | --- | --- | --- | --- | --- | --- | --- | --- | --- |
| Pulse | 37/50 | 37/50 | 130/180 | false | 0 | 7 | 0 | 0 | 1 |
| Type | Energy Per Shot (Min/Max): | Damage (Min/Max): | Velocity (Min/Max): | Mirrored: | Recoil: | Frequency: | Error: | Bullets Spread Angle (Degree(s)): | # Of Lasers: |
| --- | --- | --- | --- | --- | --- | --- | --- | --- | --- |
| Dash | 75/100 | 75/100 | 175/225 | N/A | N/A | 7 | N/A | 0 | N/A |