Jurassic World: Dominion Dominates Fandom Wikis - The Loop
Play Sound
Shadow X-27 is a tier 7 in the U-Series mod. This ship is very similar to the U-Pulsar but it has none of the disadvantages that the Pulsar had other than the aspect of fragile compared to the other Tier 7's. The damage and bullet speed is what makes this ship so good! It is best played offensively, and it's truly the definition of a glass cannon, just like the U-Marksman, perfectly fitting X-27's style. However it's not for everyone, considering how little health it has compared to the other Tier 7s. It's quite fast however needs to be used offensively and ONLY offensively.
This Ship is a tribute to X-27, a remarkable Youtuber who mainly makes Starblast.io videos, and is an avid fan of the U-Sniper.
His YouTube profile pic can be found on the back of the ship.
He no longer uploads due to Content Drought, and IRL business.
However, X-27 is still reasonably active on discord.
Each pulse does 450 damage, for a total of 900 damage, but with the large space between them, it's only possible to hit one shot on smaller ships, making this ship vulnerable to speedsters.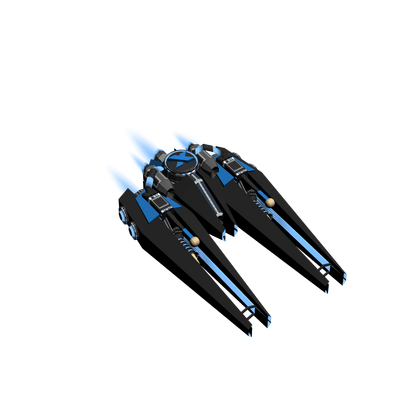 Cannons
[
]
| Type | Energy Per Shot (Min/Max): | Damage (Min/Max): | Velocity (Min/Max): | Mirrored: | Recoil: | Frequency: | Error: | Bullets Spread Angle (Degree(s)): | # Of Lasers: |
| --- | --- | --- | --- | --- | --- | --- | --- | --- | --- |
| Pulse | 900/900 | 10/10 | 280/280 | true | 15 | 2 | 0 | 0 | 45 |
Closest upgrade path (U-Series)
Upgrades from
Upgrades to

N/A