Shadow X-3 is a Tier 7 ship in Starblast.io. It is the Tier 7 version of the Shadow X-2 and Shadow X-1, yet shares a lot of characteristics with the Advanced-Fighter; it is a glass cannon ship which fires one frontal pulse with immense speed, damage, and knockback, as well as 4 small lasers from the sides. It is usually favorable to only fire the main pulse of the Shadow X-3. It is also the fastest Tier 7, although its acceleration (gaining top speed faster) used to be poor until it was buffed recently. The Shadow X-3 has a low shield capacity for a tier 7, tied with the tier 7 Bastion and the tier 6 Scorpion.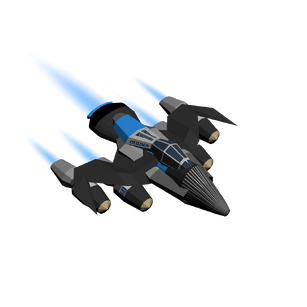 However, its speed makes up for its low shield capacity and regeneration. Being the fastest among the Tier 7 ships, the Shadow X-3 is like the Shadow X-2, allowing this ship to travel at high speeds and easily catch smaller ships. However, the Shadow X-3 has particularly poor agility making this ship difficult to use when asteroids are particularly dense in survival mode, as it is easy to lose health from asteroid collisions. A skilled Shadow X-3 can overpower tough enemies with pure firepower, so if you see a rampaging Shadow X-3, watch out!
However, note that U-Snipers and Advanced Fighters can mitigate the shield of a Shadow X-3 in 2 shots, making it essential for the X-3 to mine gems before duels. This is difficult as the X-3 is a terrible miner even after getting re-balanced, but if the X3 can hit these ships they will spin, get sent flying backwards very fast and will lose most of their shields. Mining pods don't help much either, my advice (from what I have seen others do) is to attack low-level ships that give a kill reward (best bet level 3 ships).
The X-3 is also very good with RCS.
Tricks:
With RCS off (where you can keep moving without holding down the button to move) you can turn fire and quickly get to max speed if you have full energy (and if your lucky you can hit a target and do a large amount of damage to them.) The best time to do this is when you are running away from someone. This isn't as helpful now since the agility was buffed but it still can be useful.
When you are in survival mode there is an anti-teaming based weapon called bouncing lasers that work very well with this ship because of the high damage and high bullet speed.
Cannons
[
]
| Type | Energy Per Shot (Min/Max): | Damage (Min/Max): | Velocity (Min/Max): | Mirrored: | Recoil: | Frequency: | Error: | Bullets Spread Angle (Degree(s)): | # Of Lasers: |
| --- | --- | --- | --- | --- | --- | --- | --- | --- | --- |
| Pulse | 200 | 200 | 200 | false | 500 | 1 | 0 | 0 | 1 |
| Type | Energy Per Shot (Min/Max): | Damage (Min/Max): | Velocity (Min/Max): | Mirrored: | Recoil: | Frequency: | Error: | Bullets Spread Angle (Degree(s)): | # Of Lasers: |
| --- | --- | --- | --- | --- | --- | --- | --- | --- | --- |
| Stream | 14 | 7 | 150 | true | 0 | 4 | 0 | 0 | 1 |
| Type | Energy Per Shot (Min/Max): | Damage (Min/Max): | Velocity (Min/Max): | Mirrored: | Recoil: | Frequency: | Error: | Bullets Spread Angle (Degree(s)): | # Of Lasers: |
| --- | --- | --- | --- | --- | --- | --- | --- | --- | --- |
| Stream | 14 | 7 | 150 | true | 0 | 3 | 0 | 0 | 1 |
Closest upgrade path (KEST)
Upgrades from
Upgrades to

N/A