The Squid is a Tier 3 ship in the Nautic Series mod and a retired Tier 5 ship in the Alien Intrusion mod. It rapidly fires a pulse from the front while dashing forward to ram enemy ships. While the ship itself is slow, the dash allows it to travel very quickly. In the 5.0 update for Alien Intrusion it was replaced with the Delta Speedster.
This ship is the best Tier 3 ship and is OP because with its mass, it can beat every non-rammer ship up to Tier 5 in a 1v1, and in a dense asteroid field, it can crush lightweight Tier 6 ships like the Angler, Grouper Fish, and Hammerhead Shark too. It is very ineffective against other rammers, heavy Tier 6 ships, and Tier 7 ships, which are the only ships safe from being rammed by this ship.
This ship can upgrade to the OP Cuttlefish, an excellent miner and attacker.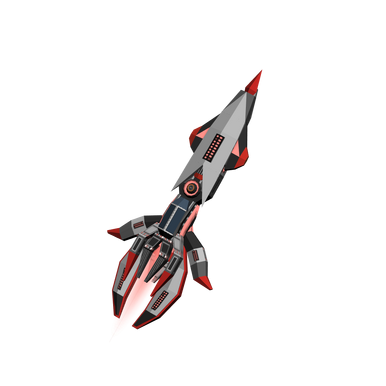 Cannons
[
]
| Type | Energy Per Shot (Min/Max): | Damage (Min/Max): | Velocity (Min/Max): | Mirrored: | Recoil: | Frequency: | Error: | Bullets Spread Angle (Degree(s)): | # Of Lasers: |
| --- | --- | --- | --- | --- | --- | --- | --- | --- | --- |
| Pulse | 15/20 | 15/20 | 175/210 | false | 0 | 3 | 0 | 0 | 1 |
| Type | Energy Per Shot (Min/Max): | Damage (Min/Max): | Velocity (Min/Max): | Mirrored: | Recoil: | Frequency: | Error: | Bullets Spread Angle (Degree(s)): | # Of Lasers: |
| --- | --- | --- | --- | --- | --- | --- | --- | --- | --- |
| Dash | 45/65 | 15/25 | 150/185 | N/A | N/A | 3 | N/A | 0 | N/A |