The Starfish is a Tier 4 ship in the Nautic Series mod. Since the design is based off a starfish, it fires 5 different lasers. However, these lasers start away from the ship and travel towards its center. This makes the ship highly unique.
It is a very fast miner due to its high energy regen. However, in combat, the Starfish must be used at close range for the lasers to hit. Despite the short bullet range, it is very effective against rammers.
This ship is very good for mining (though worse than the Cuttlefish), and it is the second-best ship in the entire mod for healing teammates or destroying stations, because of its high-damage lasers with 210 DPS, behind the Spider Crab's 275 DPS.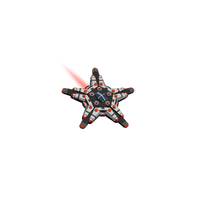 Cannons
[
]
| Type | Energy Per Shot (Min/Max): | Damage (Min/Max): | Velocity (Min/Max): | Mirrored: | Recoil: | Frequency: | Error: | Bullets Spread Angle (Degree(s)): | # Of Lasers: |
| --- | --- | --- | --- | --- | --- | --- | --- | --- | --- |
| Stream | 27/35 | 27/35 | 45/60 | false | 0 | 1.2 | 0 | 0 | 1 |
| Type | Energy Per Shot (Min/Max): | Damage (Min/Max): | Velocity (Min/Max): | Mirrored: | Recoil: | Frequency: | Error: | Bullets Spread Angle (Degree(s)): | # Of Lasers: |
| --- | --- | --- | --- | --- | --- | --- | --- | --- | --- |
| Stream | 27/35 | 27/35 | 45/60 | false | 0 | 1.2 | 0 | 0 | 1 |
| Type | Energy Per Shot (Min/Max): | Damage (Min/Max): | Velocity (Min/Max): | Mirrored: | Recoil: | Frequency: | Error: | Bullets Spread Angle (Degree(s)): | # Of Lasers: |
| --- | --- | --- | --- | --- | --- | --- | --- | --- | --- |
| Stream | 27/35 | 27/35 | 45/60 | false | 0 | 1.2 | 0 | 0 | 1 |
| Type | Energy Per Shot (Min/Max): | Damage (Min/Max): | Velocity (Min/Max): | Mirrored: | Recoil: | Frequency: | Error: | Bullets Spread Angle (Degree(s)): | # Of Lasers: |
| --- | --- | --- | --- | --- | --- | --- | --- | --- | --- |
| Stream | 27/35 | 27/35 | 45/60 | false | 0 | 1.2 | 0 | 0 | 1 |
| Type | Energy Per Shot (Min/Max): | Damage (Min/Max): | Velocity (Min/Max): | Mirrored: | Recoil: | Frequency: | Error: | Bullets Spread Angle (Degree(s)): | # Of Lasers: |
| --- | --- | --- | --- | --- | --- | --- | --- | --- | --- |
| Stream | 27/35 | 27/35 | 45/60 | false | 0 | 1.2 | 0 | 0 | 1 |