The Trailblazer is a tier 5 ship in the U-Series mod. This ship is similar to the U-Demon, but it is much smaller and has much less recoil! It regains energy faster than the U-Demon, moves far faster, and is heavier, but the agility is slightly worse. It also doesn't have the U-Demon's ability to shoot with less damage when clicked too quickly, which could be both an advantage and a disadvantage.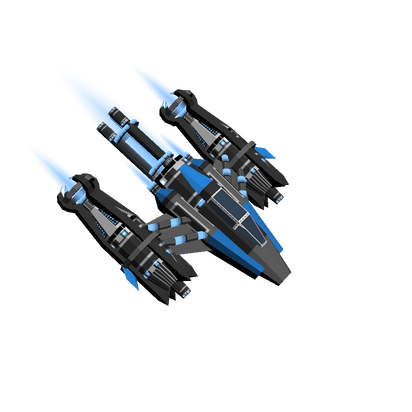 Stats:
Faster movement when empty firing then the U-Demon and U-Speeder, slower than the U-Afterburn and U-Smasher.
When only energy cap. and regen are upgraded, fires 4 shots from the front with huge dps.
viable as a rammer, though held back by its initial low agility and low move speed without its back cannons.
Tips
[
]
Sneak up on enemies from behind or the side as much as possible.
When confronting an enemy like the U-Arsenal or U-Siege from the front, move towards them so that your shot will have more velocity. Immediately after you shoot all of your pulses, steer to the side and run away. This way, even if they hit you, the knockback won't trap you.
Although more powerful, the fully upgraded bullets do less damage overall (2*175 = 350 total damage) then the non upgraded 4 bursts (4*100 = 400 total).

If you upgrade damage more than once, you must time your second shot to minimize the time and maximize burst DPS, since 460+70+70 < 600+0.2*150 and 520+70+70 ≥ 600+0.4*150.
See the table below for different cases where you upgrade damage different number of times and max energy regen.

One strategy (if you are good at steering) is to start a ways off, then rush forward and ram your opponent. the huge speed will knock them spinning. Immediately after hitting them, stop and move forward regularly letting your energy recharge, then blast them before they recover.
| Damage Upgrades | Damage for 4 bullets | Time for 4 bullets / s | DPS | Notes |
| --- | --- | --- | --- | --- |
| 0 | 4*100 = 400 | max((400+70+70-600)/150, 0.2) = 0.2 | 2000 | This does high DPS. Timing the second shot is not necessary. This is not as good as upgrading Damage once. |
| 1 | 4*115 = 460 | max((460+70+70-600)/150, 0.2) = 0.2 | 2300 | Maximal DPS. This is recommended for fighting other speeders, except the U-Afterburn. Timing the second shot is not necessary. |
| 2 | 4*130 = 520 | (520+70+70-600)/150 = 0.4 | 1300 | Timing the second shot is required to get two bullets on the second shot. This is enough to kill ships that have 500 or less health, such as a U-Afterburn without gems. This is recommended for fighting other speeders. |
| 3 | 4*145 = 580 | (580+70+70-600)/150 = 0.8 | 725 | |
| 4 | 4*160 = 640 | (640+70+70-600)/150 = 1.2 | 533.3 | |
| 5 | 4*175 = 700 | (700+70+70-600)/150 = 1.6 | 437.5 | If only the first 2 shots hit, and the opponent escapes, that's only 350 damage. This is recommended only for a fast hit-and-run, when you don't expect to hit more than the first 2 bullets. |
Cannons
[
]
| Type | Energy Per Shot (Min/Max): | Damage (Min/Max): | Velocity (Min/Max): | Mirrored: | Recoil: | Frequency: | Error: | Bullets Spread Angle (Degree(s)): | # Of Lasers: |
| --- | --- | --- | --- | --- | --- | --- | --- | --- | --- |
| Pulse | 200/350 | 100/175 | 190/230 | true | 300 | 5 | 0 | 0 | 1 |
| Type | Energy Per Shot (Min/Max): | Damage (Min/Max): | Velocity (Min/Max): | Mirrored: | Recoil: | Frequency: | Error: | Bullets Spread Angle (Degree(s)): | # Of Lasers: |
| --- | --- | --- | --- | --- | --- | --- | --- | --- | --- |
| Pulse | 40/40 | 20/20 | 190/240 | true | 100 | 10 | 0 | 0 | 1 |
| Type | Energy Per Shot (Min/Max): | Damage (Min/Max): | Velocity (Min/Max): | Mirrored: | Recoil: | Frequency: | Error: | Bullets Spread Angle (Degree(s)): | # Of Lasers: |
| --- | --- | --- | --- | --- | --- | --- | --- | --- | --- |
| Pulse | 30/30 | 30/30 | 190/240 | false | 100 | 10 | 0 | 0 | 1 |
Closest upgrade path (U-Series)
Upgrades from
Upgrades to