NOTE: As of version 4.0, some information may be missing or outdated.
The U-Arsenal is a Tier 4 ship in the U-Series mod. It fires a frenzy of 7 pulses all from the front. This gives it high burst damage and makes it a good ship for attacking, and is a decent miner. It has rather terrifying speed for its size, and it can easily kill anything up to a Tier 6. It has very high energy regeneration, and a lot of mass, making this quite the fearsome ship. However, it has weaknesses. Its max shield capacity is quite low so take advantage of that, and blast it. Despite its tanky appearance, it is not a tank.
This ship is the successor to the U-Cruiser and predecessor to the U-Punisher and U-Barricade, ships that move fast and attack with recoil.
This ship, along with the U-Siege, is recommended for new players, since it is widely regarded as severely overpowered.
While OP, this ship is countered by ships with large bursts, such as the U-Siege, H-Warrior, and U-Bruiser. In fact, even with full gems and shield, the U-Siege will beat the U-Arsenal in a 1v1, since the U-Siege can kill the U-Arsenal in half a second ((400+320-650)/150 = 0.467 second), before the U-Arsenal can fire its second shot, while the U-Arsenal can only do 420 damage, which is not enough to kill the U-Siege, which has 350+320 = 670 health.
Some players prefer to partially upgrade Damage (only two or three instead of maxing it), so that there is more recoil to help retreat with RCS off.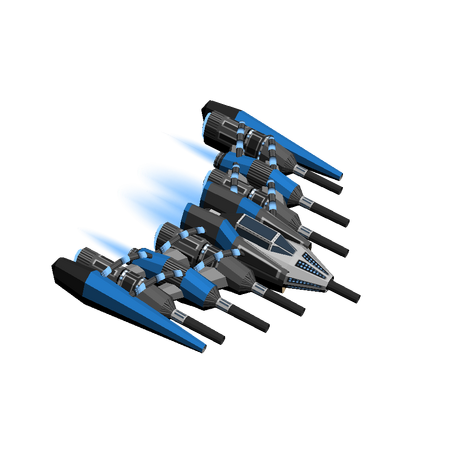 Cannons
[
]
| Type | Energy Per Shot (Min/Max): | Damage (Min/Max): | Velocity (Min/Max): | Mirrored: | Recoil: | Frequency: | Error: | Bullets Spread Angle (Degree(s)): | # Of Lasers: |
| --- | --- | --- | --- | --- | --- | --- | --- | --- | --- |
| Pulse | 40/60 | 40/60 | 190/240 | false | 50 | 2 | 0 | 0 | 1 |
| Type | Energy Per Shot (Min/Max): | Damage (Min/Max): | Velocity (Min/Max): | Mirrored: | Recoil: | Frequency: | Error: | Bullets Spread Angle (Degree(s)): | # Of Lasers: |
| --- | --- | --- | --- | --- | --- | --- | --- | --- | --- |
| Pulse | 80/120 | 40/60 | 190/240 | true | 50 | 2 | 0 | 0 | 1 |
| Type | Energy Per Shot (Min/Max): | Damage (Min/Max): | Velocity (Min/Max): | Mirrored: | Recoil: | Frequency: | Error: | Bullets Spread Angle (Degree(s)): | # Of Lasers: |
| --- | --- | --- | --- | --- | --- | --- | --- | --- | --- |
| Pulse | 80/120 | 40/60 | 190/240 | true | 50 | 2 | 0 | 0 | 1 |
| Type | Energy Per Shot (Min/Max): | Damage (Min/Max): | Velocity (Min/Max): | Mirrored: | Recoil: | Frequency: | Error: | Bullets Spread Angle (Degree(s)): | # Of Lasers: |
| --- | --- | --- | --- | --- | --- | --- | --- | --- | --- |
| Pulse | 80/120 | 40/60 | 190/240 | true | 50 | 2 | 0 | 0 | 1 |
Closest upgrade path (U-Series)
Upgrades from
Upgrades to