The U-Barricade is a tier 6 in the U-Series mod. It features immense power and recoil, but it has poor agility. It takes a long time to accelerate to full speed, which is faster the U-Arsenal and U-Punisher. This ship is very good in combat, unless there are asteroids behind it. Its recoil helps it to escape with RCS off, and even if ships like the U-Afterburn and U-Smasher can easily catch up, just keep facing them and shoot them if they get too close. Similar to the U-Bruiser, it works best in surprise attacks to one-shot enemies or remove their shield. But it takes time to recharge, so be careful after attacking.
This ship is the best ship to reach the U-Wall.
This ship used to be the best ship before it was nerfed.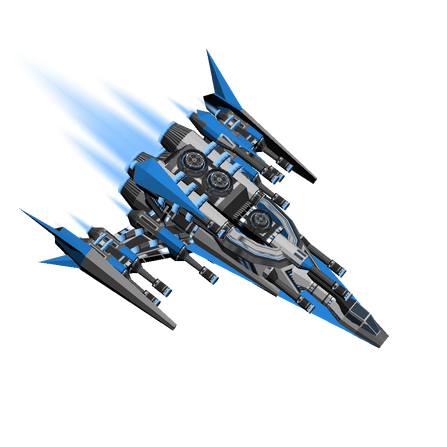 Cannons
[
]
| Type | Energy Per Shot (Min/Max): | Damage (Min/Max): | Velocity (Min/Max): | Mirrored: | Recoil: | Frequency: | Error: | Bullets Spread Angle (Degree(s)): | # Of Lasers: |
| --- | --- | --- | --- | --- | --- | --- | --- | --- | --- |
| Pulse | 80/120 | 40/60 | 190/240 | true | 75 | 2 | 0 | 0 | 1 |
| Type | Energy Per Shot (Min/Max): | Damage (Min/Max): | Velocity (Min/Max): | Mirrored: | Recoil: | Frequency: | Error: | Bullets Spread Angle (Degree(s)): | # Of Lasers: |
| --- | --- | --- | --- | --- | --- | --- | --- | --- | --- |
| Pulse | 80/120 | 40/60 | 190/240 | true | 75 | 2 | 0 | 0 | 1 |
| Type | Energy Per Shot (Min/Max): | Damage (Min/Max): | Velocity (Min/Max): | Mirrored: | Recoil: | Frequency: | Error: | Bullets Spread Angle (Degree(s)): | # Of Lasers: |
| --- | --- | --- | --- | --- | --- | --- | --- | --- | --- |
| Pulse | 80/120 | 40/60 | 190/240 | true | 75 | 2 | 0 | 0 | 1 |
| Type | Energy Per Shot (Min/Max): | Damage (Min/Max): | Velocity (Min/Max): | Mirrored: | Recoil: | Frequency: | Error: | Bullets Spread Angle (Degree(s)): | # Of Lasers: |
| --- | --- | --- | --- | --- | --- | --- | --- | --- | --- |
| Pulse | 120/160 | 60/80 | 190/240 | true | 100 | 2 | 0 | 0 | 1 |
| Type | Energy Per Shot (Min/Max): | Damage (Min/Max): | Velocity (Min/Max): | Mirrored: | Recoil: | Frequency: | Error: | Bullets Spread Angle (Degree(s)): | # Of Lasers: |
| --- | --- | --- | --- | --- | --- | --- | --- | --- | --- |
| Pulse | 60/100 | 30/50 | 200/240 | true | 20 | 2 | 0 | 0 | 1 |
| Type | Energy Per Shot (Min/Max): | Damage (Min/Max): | Velocity (Min/Max): | Mirrored: | Recoil: | Frequency: | Error: | Bullets Spread Angle (Degree(s)): | # Of Lasers: |
| --- | --- | --- | --- | --- | --- | --- | --- | --- | --- |
| Pulse | 50/90 | 25/45 | 190/240 | true | 20 | 2 | 0 | 0 | 1 |
Closest upgrade path (U-Series)
Upgrades from
Upgrades to