The U-Barricade is a tier 6 in the U-Series mod. Similar to the U-Bruiser, it features immense power and recoil, but it has poor agility. While fast, it accelerates slowly. This ship is a better U-Arsenal, having the same shot style.
This is the best ship to reach the U-Wall and was the best ship in U-Series before it was nerfed.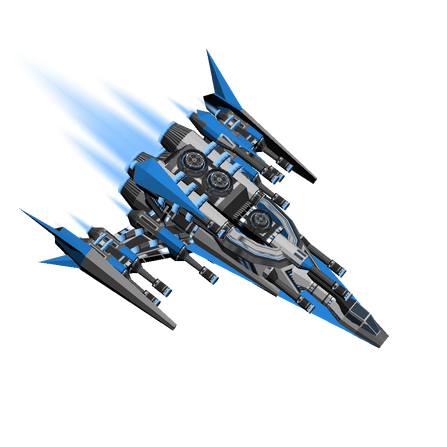 Strategy
This ship is very good in combat, unless it's recharging or there are too many asteroids behind it, although that's less of an issue as a heavy ship, compared to asteroids for the lighter U-Arsenal. This ship can do 710 damage in one burst, while the U-Bruiser only does 520, but this ship recharges slower (175) compared to the U-Bruiser (200).
While the U-Barricade moves as fast as the U-Penta, faster the U-Arsenal and U-Punisher, it takes a long time to accelerate to full speed forward, but using recoil with RCS off can reach full speed quickly, although backward.
Its recoil helps it to escape with RCS off, and even if ships like the U-Afterburn and U-Smasher can easily catch up, just keep facing them and shoot them if they get too close. Similar to the U-Bruiser, it works best in surprise attacks to one-shot enemies or remove their shield. But it takes time to recharge, so be careful after attacking.
This ship is superior to U-10 Thunders, unless they escape with their ridiculous recoil and you won't catch up, as you have low acceleration.
Cannons
| Type | Energy Per Shot (Min/Max): | Damage (Min/Max): | Velocity (Min/Max): | Mirrored: | Recoil: | Frequency: | Error: | Bullets Spread Angle (Degree(s)): | # Of Lasers: |
| --- | --- | --- | --- | --- | --- | --- | --- | --- | --- |
| Pulse | 80/120 | 40/60 | 190/240 | true | 75 | 2 | 0 | 0 | 1 |
| Type | Energy Per Shot (Min/Max): | Damage (Min/Max): | Velocity (Min/Max): | Mirrored: | Recoil: | Frequency: | Error: | Bullets Spread Angle (Degree(s)): | # Of Lasers: |
| --- | --- | --- | --- | --- | --- | --- | --- | --- | --- |
| Pulse | 80/120 | 40/60 | 190/240 | true | 75 | 2 | 0 | 0 | 1 |
| Type | Energy Per Shot (Min/Max): | Damage (Min/Max): | Velocity (Min/Max): | Mirrored: | Recoil: | Frequency: | Error: | Bullets Spread Angle (Degree(s)): | # Of Lasers: |
| --- | --- | --- | --- | --- | --- | --- | --- | --- | --- |
| Pulse | 80/120 | 40/60 | 190/240 | true | 75 | 2 | 0 | 0 | 1 |
| Type | Energy Per Shot (Min/Max): | Damage (Min/Max): | Velocity (Min/Max): | Mirrored: | Recoil: | Frequency: | Error: | Bullets Spread Angle (Degree(s)): | # Of Lasers: |
| --- | --- | --- | --- | --- | --- | --- | --- | --- | --- |
| Pulse | 120/160 | 60/80 | 190/240 | true | 100 | 2 | 0 | 0 | 1 |
| Type | Energy Per Shot (Min/Max): | Damage (Min/Max): | Velocity (Min/Max): | Mirrored: | Recoil: | Frequency: | Error: | Bullets Spread Angle (Degree(s)): | # Of Lasers: |
| --- | --- | --- | --- | --- | --- | --- | --- | --- | --- |
| Pulse | 60/100 | 30/50 | 200/240 | true | 20 | 2 | 0 | 0 | 1 |
| Type | Energy Per Shot (Min/Max): | Damage (Min/Max): | Velocity (Min/Max): | Mirrored: | Recoil: | Frequency: | Error: | Bullets Spread Angle (Degree(s)): | # Of Lasers: |
| --- | --- | --- | --- | --- | --- | --- | --- | --- | --- |
| Pulse | 50/90 | 25/45 | 190/240 | true | 20 | 2 | 0 | 0 | 1 |
Closest upgrade path (U-Series)
Upgrades from
Upgrades to