Jurassic World: Dominion Dominates Fandom Wikis - The Loop
Play Sound
The U-Center is a Tier 4 ship in the U-Series mod. Its fire pattern is the same as the U-Spread if damage is maxed and energy regen is not upgraded (stream of pulses from the front, plus a random cannon every 10 seconds). The U-Octa fires all shots from the front when used this way. The cannon at the front shoots a lower damage pulse but at a much higher rate. Because of its high mass, shield, and energy regen, the U-Center is a fast miner, and is a decent counter to the other Tier 4's. Similar to the Scorpion and Condor, the shield cap upgrade is very steep (about 1.8x).
It is the second ship in the miner branch: U-Spread > U-Center > U-Octa > U-Perimeter. It is the successor of the Tier 3 U-Spread and the predecessor of the Tier 5 U-Octa, which has better mass, speed, and doesn't have the issue of side cannons shooting periodically, while not having any disadvantages.
This ship is OP because when it's maxed out (except energy regen), it's basically an agile fast-moving U-Fusion with small energy cap, but in Tier 4. It has almost as much shield as the U-Fusion, and it regens at the same rate, while moving and turning much faster. It deals 240 damage/second through the front laser (with occasional shots from other cannons every 10 seconds), which is more than the U-Fusion's sustained 200 damage/second. But without the mass, this ship is much more vulnerable to the U-Smasher than the U-Fusion is.
But if you want to heal or powermine to the next tier, then you should upgrade energy regen.
With skill, the speedster branch can kill the miner branch (this ship, U-Octa, and U-Perimeter), but they have to be very cautious, as getting stunlocked will drop a lot of gems or result in death. It is much easier for a miner to kill a speedster than it is for a speedster to kill a miner, since you just hold down the fire button and aim at the speedster while it dies from your stream of pulses. However, a skilled miner would lose to a skilled speedster, who can hit the miner and escape while being hit by at most a few pulses.
The U-Arsenal would beat this ship in a 1v1 because its recoil and high burst damage can cause this ship to miss many shots, and many players prefer it over the U-Center for its attacking ability, although the U-Center is much better at mining, destroying bases, and surviving a U-Siege blast.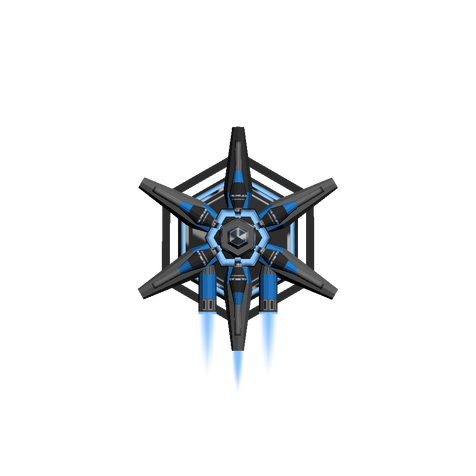 Cannons
[
]
| Type | Energy Per Shot (Min/Max): | Damage (Min/Max): | Velocity (Min/Max): | Mirrored: | Recoil: | Frequency: | Error: | Bullets Spread Angle (Degree(s)): | # Of Lasers: |
| --- | --- | --- | --- | --- | --- | --- | --- | --- | --- |
| Pulse | 40/60 | 40/60 | 190/240 | false | 50 | 4 | 0 | 0 | 1 |
| Type | Energy Per Shot (Min/Max): | Damage (Min/Max): | Velocity (Min/Max): | Mirrored: | Recoil: | Frequency: | Error: | Bullets Spread Angle (Degree(s)): | # Of Lasers: |
| --- | --- | --- | --- | --- | --- | --- | --- | --- | --- |
| Pulse | 160/200 | 80/100 | 190/240 | true | 150 | 2 | 0 | 0 | 1 |
| Type | Energy Per Shot (Min/Max): | Damage (Min/Max): | Velocity (Min/Max): | Mirrored: | Recoil: | Frequency: | Error: | Bullets Spread Angle (Degree(s)): | # Of Lasers: |
| --- | --- | --- | --- | --- | --- | --- | --- | --- | --- |
| Pulse | 160/200 | 80/100 | 190/240 | true | 150 | 2 | 0 | 0 | 1 |
| Type | Energy Per Shot (Min/Max): | Damage (Min/Max): | Velocity (Min/Max): | Mirrored: | Recoil: | Frequency: | Error: | Bullets Spread Angle (Degree(s)): | # Of Lasers: |
| --- | --- | --- | --- | --- | --- | --- | --- | --- | --- |
| Pulse | 80/100 | 80/100 | 190/240 | false | 150 | 1 | 0 | 0 | 1 |
Closest upgrade path (U-Series)
Upgrades from
Upgrades to