Line 20:
Line 20:
 

-Just a player, who mainly goes by Laser Cannon

 

-Just a player, who mainly goes by Laser Cannon

 
 
−

== Cannons ==

+

== ==

−

This ship fires of deadly bullets from the back side to accelerate it forward and to kill opponents.

+

This ship fires of deadly bullets from the back side to accelerate it forward and to kill opponents.

 
+
 
+

== Cannons ==

 

{{Cannon|damage=30/50|frequency=5|spread=1|error=0|dual=true|energy=60/100|speed=190/240|type=Pulse|recoil=75}}{{Cannon|damage=30/50|frequency=5|spread=1|error=0|dual=true|energy=60/100|speed=190/240|type=Pulse|recoil=75}}{{Cannon|damage=20/40|frequency=5|spread=1|error=0|dual=false|energy=20/40|speed=190/240|type=Pulse|recoil=15}}{{ShipNavU-Series|[[U-Spread]] - [[H-Warrior]]|[[H-Destroyer]] - [[Trailblazer]]}}

 

{{Cannon|damage=30/50|frequency=5|spread=1|error=0|dual=true|energy=60/100|speed=190/240|type=Pulse|recoil=75}}{{Cannon|damage=30/50|frequency=5|spread=1|error=0|dual=true|energy=60/100|speed=190/240|type=Pulse|recoil=75}}{{Cannon|damage=20/40|frequency=5|spread=1|error=0|dual=false|energy=20/40|speed=190/240|type=Pulse|recoil=15}}{{ShipNavU-Series|[[U-Spread]] - [[H-Warrior]]|[[H-Destroyer]] - [[Trailblazer]]}}

 

[[Category:Ships]]

 

[[Category:Ships]]
---
Revision as of 12:56, 8 August 2019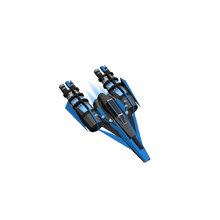 Strategy
The U-interceptor may seem bad at first glance if you use the frontal cannon as your main weapon, but that's because most of the energy is used by the rear cannons, and most of the damage output comes from them. using it as a hit and run ship with the rear cannons as your main weapon can be devastating, as if all shots from the burst fire connect its can deal up to 500 damage in one pass, and the energy can regenerate to full in 2 seconds. This ship can take down tier 6's and even tier 7's when using this strategy. I advise using the frontal cannon mainly when chasing down ships with low shields and empty or almost empty gem cargos.
-Just a player, who mainly goes by Laser Cannon
Descriptions
This ship fires of deadly bullets from the back side to accelerate it forward and to kill opponents.
Cannons
| Type | Energy Per Shot (Min/Max): | Damage (Min/Max): | Velocity (Min/Max): | Mirrored: | Recoil: | Frequency: | Error: | Bullets Spread Angle (Degree(s)): | # Of Lasers: |
| --- | --- | --- | --- | --- | --- | --- | --- | --- | --- |
| Pulse | 60/100 | 30/50 | 190/240 | true | 75 | 5 | 0 | 0 | 1 |
| Type | Energy Per Shot (Min/Max): | Damage (Min/Max): | Velocity (Min/Max): | Mirrored: | Recoil: | Frequency: | Error: | Bullets Spread Angle (Degree(s)): | # Of Lasers: |
| --- | --- | --- | --- | --- | --- | --- | --- | --- | --- |
| Pulse | 60/100 | 30/50 | 190/240 | true | 75 | 5 | 0 | 0 | 1 |
| Type | Energy Per Shot (Min/Max): | Damage (Min/Max): | Velocity (Min/Max): | Mirrored: | Recoil: | Frequency: | Error: | Bullets Spread Angle (Degree(s)): | # Of Lasers: |
| --- | --- | --- | --- | --- | --- | --- | --- | --- | --- |
| Pulse | 20/40 | 20/40 | 190/240 | false | 15 | 5 | 0 | 0 | 1 |
Closest upgrade path (U-Series)
Upgrades from
Upgrades to