The U-Interceptor is a Tier 4 ship in the U-Series mod. It fires 4 pulses from the back to propel itself forward as well as a lower damage pulse from the front. It is built for speed, however lacks in agility.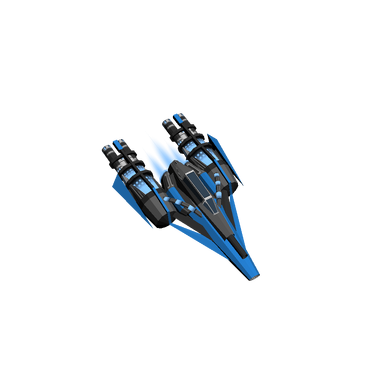 Strategy[]
The U-interceptor may seem bad at first glance if you use the frontal cannon as your main weapon, but that's because most of the energy is used by the rear cannons, and most of the damage output comes from them. Using it as a hit and run ship with the rear cannons as your main weapon can be devastating, as if all shots from the burst fire connect it can deal up to 500+ damage in one pass, and the energy can regenerate to full in 2 seconds. This ship can take down tier 6's and even tier 7's when using this strategy. The easiest way to approach enemy ships when doing this is deactivating R.C.S. and drifting towards them with the rear cannons facing the direction you are moving. I advise using the frontal cannon mainly when chasing down ships with low shields and empty or almost empty gem cargo in order to finish them off.
Upgrading the damage of the pulses will allow you to empty your energy capacity faster and thus reduce the amount of time you need to stick around if using the above strategy, but will decrease your average speed when you are using the rear cannons for propulsion.
| Type | Energy Per Shot (Min/Max): | Damage (Min/Max): | Velocity (Min/Max): | Mirrored: | Recoil: | Frequency: | Error: | Bullets Spread Angle (Degree(s)): | # Of Lasers: |
| --- | --- | --- | --- | --- | --- | --- | --- | --- | --- |
| Pulse | 60/100 | 30/50 | 190/240 | true | 75 | 5 | 0 | 0 | 1 |
| Type | Energy Per Shot (Min/Max): | Damage (Min/Max): | Velocity (Min/Max): | Mirrored: | Recoil: | Frequency: | Error: | Bullets Spread Angle (Degree(s)): | # Of Lasers: |
| --- | --- | --- | --- | --- | --- | --- | --- | --- | --- |
| Pulse | 60/100 | 30/50 | 190/240 | true | 75 | 5 | 0 | 0 | 1 |
| Type | Energy Per Shot (Min/Max): | Damage (Min/Max): | Velocity (Min/Max): | Mirrored: | Recoil: | Frequency: | Error: | Bullets Spread Angle (Degree(s)): | # Of Lasers: |
| --- | --- | --- | --- | --- | --- | --- | --- | --- | --- |
| Pulse | 20/40 | 20/40 | 190/240 | false | 15 | 5 | 0 | 0 | 1 |
Closest upgrade path (U-Series)
Upgrades from
Upgrades to