The U-Octa is a tier 5 ship in the U-Series mod. This is an excellent miner and attacker! This ship fires a total of 8 bullets in every direction, or in one direction, depending on how you choose to upgrade. But like all the other miners, it's pretty slow, very bulky, and has a ton of mass. But its health lets it survive and defeat the U-Siege and U-Marksman. It's a better version of the U-Center, improving the mass, speed, and ability to shoot the frontal cannon only, while not having any disadvantages.
It is the third ship in the miner branch: U-Spread > U-Center > U-Octa > U-Perimeter. It is the successor of the Tier 4 U-Center and the predecessor of the Tier 6 U-Perimeter, which has better shield and mass (and energy regen for non-attackers), in exchange for sacrificing a little speed.
This ship is OP. If you upgrade Damage 4 or 5 times and do not upgrade Energy Regen, only the front laser will shoot when energy is low. This makes it like a U-Fusion with low energy cap, same shield regen, more DPS (sustained 250 damage/second), and more agility, but in Tier 5. Mathematically, you should be able to max Damage and upgrade Energy Regen once for 270 damage/second, but if you do that, other cannons will shoot, which will throw off your recoil for retreating. Also, upgrading Damage 4 times doesn't seem to be enough.
Like the U-Center, it's vulnerable to and loses to speedsters but shreds them if they make a small mistake. It's also vulnerable to the U-Arsenal's high burst damage with recoil. As long as this ship has enough health (from either shield or gems), any enemy with low energy (except other miners and some speedsters) is basically a free kill, since you can damage them faster than they can damage you, and the stream of pulses can also help stunlock them.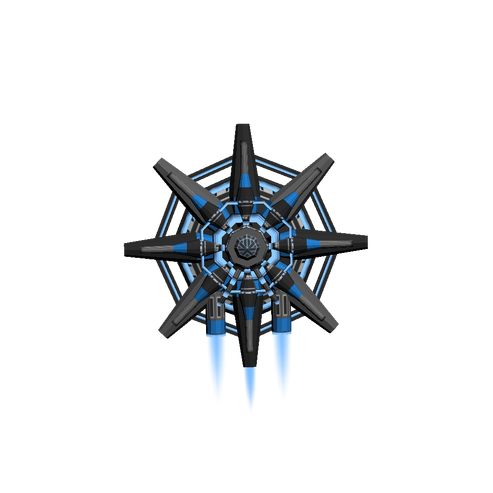 Cannons
[
]
| Type | Energy Per Shot (Min/Max): | Damage (Min/Max): | Velocity (Min/Max): | Mirrored: | Recoil: | Frequency: | Error: | Bullets Spread Angle (Degree(s)): | # Of Lasers: |
| --- | --- | --- | --- | --- | --- | --- | --- | --- | --- |
| Pulse | 40/60 | 40/60 | 190/240 | false | 100 | 4.5 | 0 | 0 | 1 |
| Type | Energy Per Shot (Min/Max): | Damage (Min/Max): | Velocity (Min/Max): | Mirrored: | Recoil: | Frequency: | Error: | Bullets Spread Angle (Degree(s)): | # Of Lasers: |
| --- | --- | --- | --- | --- | --- | --- | --- | --- | --- |
| Pulse | 80/120 | 40/60 | 190/240 | true | 150 | 2 | 0 | 0 | 1 |
| Type | Energy Per Shot (Min/Max): | Damage (Min/Max): | Velocity (Min/Max): | Mirrored: | Recoil: | Frequency: | Error: | Bullets Spread Angle (Degree(s)): | # Of Lasers: |
| --- | --- | --- | --- | --- | --- | --- | --- | --- | --- |
| Pulse | 80/120 | 40/60 | 190/240 | true | 150 | 2 | 0 | 0 | 1 |
| Type | Energy Per Shot (Min/Max): | Damage (Min/Max): | Velocity (Min/Max): | Mirrored: | Recoil: | Frequency: | Error: | Bullets Spread Angle (Degree(s)): | # Of Lasers: |
| --- | --- | --- | --- | --- | --- | --- | --- | --- | --- |
| Pulse | 80/120 | 40/60 | 190/240 | true | 150 | 2 | 0 | 0 | 1 |
| Type | Energy Per Shot (Min/Max): | Damage (Min/Max): | Velocity (Min/Max): | Mirrored: | Recoil: | Frequency: | Error: | Bullets Spread Angle (Degree(s)): | # Of Lasers: |
| --- | --- | --- | --- | --- | --- | --- | --- | --- | --- |
| Pulse | 40/60 | 40/60 | 190/240 | false | 150 | 2 | 0 | 0 | 1 |
Closest upgrade path (U-Series)
Upgrades from
Upgrades to