Jurassic World: Dominion Dominates Fandom Wikis - The Loop
Play Sound
The U-Penta is a Tier 3 ship in the U-Series mod. As suggested by its name, it has 5 cannons each firing pulses. The central cannon fires a slightly weaker pulse at a higher rate. Maxing damage on this ship prevents the outer cannons from firing at all, except on burst shots. This can make mining a much easier task, as well as on attacking. However it does not work well on enemy groups as only one cannon is firing, so finishing them off may prove to be difficult. When going the mining route, upgrade fully energy regen, damage, and agility. If only regen is upgraded, while DPS jumps the rapid firing cannons with knockback mean moving and collecting the gems is a hassle.
If you're the type to max damage without regen as a attack ship, in the side of the upgrade tree it's better to use the U-Spread, which has higher damage in the front cannon and better shields.
If you want to kill an enemy base early for a short game, a team of U-Pentas or U-Spreads is best for this, as they have the highest energy regen of Tier 3. Using a U-Penta can deliver 300 damage/second, better than the U-Spread's 240 DPS through the front cannon, but the U-Spread has better shield capacity. A team of 8 U-Pentas with max energy regen and damage upgrades (300 damage/second through front 3 cannons) can kill a Level 1 depot in 2.1 seconds and a Level 1 spawn module in 1.68 seconds, ending the game in under 7.55 seconds (of course, plus the time it takes to mine to U-Penta and max out energy regen and damage). A Level 4 base is not much harder to kill. 8 U-Pentas can kill a Level 4 depot in 3.37 seconds, and a Level 4 spawn module in 2.3 seconds, ending the game in 11.35 seconds.
The U-Penta used to have insane recoil, in older versions of U-Series, and could ram a U-Wall to death.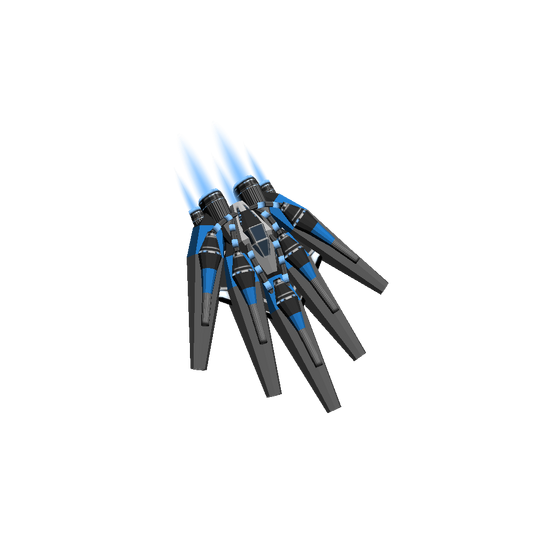 Cannons
[
]
| Type | Energy Per Shot (Min/Max): | Damage (Min/Max): | Velocity (Min/Max): | Mirrored: | Recoil: | Frequency: | Error: | Bullets Spread Angle (Degree(s)): | # Of Lasers: |
| --- | --- | --- | --- | --- | --- | --- | --- | --- | --- |
| Pulse | 30/50 | 30/50 | 190/240 | false | 50 | 3 | 0 | 0 | 1 |
| Type | Energy Per Shot (Min/Max): | Damage (Min/Max): | Velocity (Min/Max): | Mirrored: | Recoil: | Frequency: | Error: | Bullets Spread Angle (Degree(s)): | # Of Lasers: |
| --- | --- | --- | --- | --- | --- | --- | --- | --- | --- |
| Pulse | 80/120 | 40/60 | 190/240 | true | 50 | 2 | 0 | 0 | 1 |
| Type | Energy Per Shot (Min/Max): | Damage (Min/Max): | Velocity (Min/Max): | Mirrored: | Recoil: | Frequency: | Error: | Bullets Spread Angle (Degree(s)): | # Of Lasers: |
| --- | --- | --- | --- | --- | --- | --- | --- | --- | --- |
| Pulse | 100/140 | 50/70 | 190/240 | true | 50 | 2 | 0 | 0 | 1 |
Closest upgrade path (U-Series)
Upgrades from
Upgrades to