The U-Perimeter is a tier 6 ship in the U-Series mod. This ship is an excellent miner, but this ship is pretty slow and very bulky. But don't neglect the fact on how good it can be when attacking! It's a tank and a good attacker when on the offensive! This ship is the best ship to heal with. The bullets are shot everywhere! It is best played defensively, or offensively, depending if enemies are clustered or not.
It is the last ship in the miner branch: U-Spread > U-Center > U-Octa > U-Perimeter.
If you upgrade Damage 4 to 6 times and do not upgrade Energy Regen, only the front laser will shoot when energy is low. If you fully upgrade everything except Energy Regen, this ship is like an agile fast-moving U-Fusion that outperforms it in every way except energy capacity and mass. It's literally a better version of the U-Fusion with low energy cap, firing a stream of pulses in front of it for 250 damage/second, instead of the U-Fusion's large one-shot damage plus 200 damage/second. This ship's mass has decent protection against the U-Smasher, but the U-Fusion has better protection against U-Smashers. Using the U-Perimeter in this way is merely a slight improvement (more shield cap and regen, less speed and turn rate) over using the U-Octa in this way, so it's not as OP as the Tier 5 U-Octa relative to ships in the same tier, since Tier 6 ships are more powerful.
If you want to heal or mine, you should max damage and energy regen, which results in maximal 280 damage/second from the front cannon, plus other cannons will shoot at 320 damage/second. You have more front damage with better defense if you upgrade energy regen, but you will not be able to retreat with recoil. However, if you want to use it for combat, don't upgrade energy regen, even though this reduces damage to 250 damage/second, since the shots from the other cannons prevent you from using the recoil to move backwards while continuously shooting.
If you want to be a healer, you can also skip damage upgrades and max energy regen, causing the shots to go everywhere, healing teammates all around you.
Be aware of U-Monitors, as they have focused 450 DPS and can knock you off guard.
Because of the Heartbreaker's ridiculous recoil, and U-Fusion's non-existent agility, a maxed U-Perimeter is generally better than its Tier 7 upgrades.
Strategy
[
]
Do not upgrade to T7, since they are actually downgrades compared to a maxed U-Perimeter.
stay, mine, contribute, attack, kill, win
stay : do not upgrade. max it up.
mine : mine to fill cargo with gems
contribute : contribute all your gems for credits
attack : buy and dispense torpedoes in to the enemy station

about 4.2 contributions gets 3000 credits for 6 torps

kill : destroy modules with your torpedoes.
win : victory! enemy station destroyed.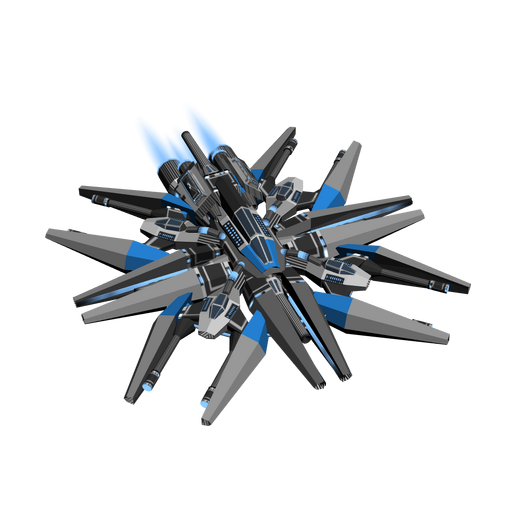 Cannons
[
]
The tables below are outdated. The U-Perimeter has 12 cannons.
| Type | Energy Per Shot (Min/Max): | Damage (Min/Max): | Velocity (Min/Max): | Mirrored: | Recoil: | Frequency: | Error: | Bullets Spread Angle (Degree(s)): | # Of Lasers: |
| --- | --- | --- | --- | --- | --- | --- | --- | --- | --- |
| Pulse | 50/70 | 50/70 | 190/240 | false | 50 | 4 | 0 | 0 | 1 |
| Type | Energy Per Shot (Min/Max): | Damage (Min/Max): | Velocity (Min/Max): | Mirrored: | Recoil: | Frequency: | Error: | Bullets Spread Angle (Degree(s)): | # Of Lasers: |
| --- | --- | --- | --- | --- | --- | --- | --- | --- | --- |
| Pulse | 120/160 | 60/80 | 190/240 | true | 150 | 2 | 0 | 0 | 1 |
| Type | Energy Per Shot (Min/Max): | Damage (Min/Max): | Velocity (Min/Max): | Mirrored: | Recoil: | Frequency: | Error: | Bullets Spread Angle (Degree(s)): | # Of Lasers: |
| --- | --- | --- | --- | --- | --- | --- | --- | --- | --- |
| Pulse | 120/160 | 60/80 | 190/240 | true | 150 | 2 | 0 | 0 | 1 |
| Type | Energy Per Shot (Min/Max): | Damage (Min/Max): | Velocity (Min/Max): | Mirrored: | Recoil: | Frequency: | Error: | Bullets Spread Angle (Degree(s)): | # Of Lasers: |
| --- | --- | --- | --- | --- | --- | --- | --- | --- | --- |
| Pulse | 120/160 | 60/80 | 190/240 | true | 150 | 2 | 0 | 0 | 1 |
| Type | Energy Per Shot (Min/Max): | Damage (Min/Max): | Velocity (Min/Max): | Mirrored: | Recoil: | Frequency: | Error: | Bullets Spread Angle (Degree(s)): | # Of Lasers: |
| --- | --- | --- | --- | --- | --- | --- | --- | --- | --- |
| Pulse | 120/160 | 60/80 | 190/240 | true | 150 | 2 | 0 | 0 | 1 |
| Type | Energy Per Shot (Min/Max): | Damage (Min/Max): | Velocity (Min/Max): | Mirrored: | Recoil: | Frequency: | Error: | Bullets Spread Angle (Degree(s)): | # Of Lasers: |
| --- | --- | --- | --- | --- | --- | --- | --- | --- | --- |
| Pulse | 120/160 | 60/80 | 190/240 | true | 150 | 2 | 0 | 0 | 1 |
Trivia
[
]
[

]
Closest upgrade path (U-Series)
Upgrades from
Upgrades to