Obi-Wan Finale - The Loop
Play Sound
The U-Spread is a Tier 3 ship in the U-Series mod. It fires a spread of 5 lasers from all different angles. The main cannon at the front fires a weaker pulse at a higher rate. This ship is a mix of Support and Offense. If you chose to go offense, max out damage, and not energy regeneration, as the main pulse will continuously fire without end (rarely, every 10 seconds, a different random cannon fires), and you can easily finish off enemy players. The acceleration is slow, so tread carefully whilst playing. If you chose the mining route, Energy Regen is the way to go.
It is the first ship in the miner branch: U-Spread > U-Center > U-Octa > U-Perimeter. It is the predecessor of the Tier 4 U-Center, which has better shield, mass, and acceleration, in exchange for less speed and turn rate.
If you want to kill an enemy base early for a short game, a team of U-Pentas or U-Spreads is best for this, as they have the highest energy regen of Tier 3. Using a U-Penta can deliver 300 damage/second, but it has inferior shields. Using U-Spread with max damage and no energy regen upgrades only does 240 DPS with the front cannon. A team of 8 U-Spreads with max damage and no energy regen upgrades (240 DPS) can kill a Level 1 depot in 2.626 seconds and a Level 1 spawn module in 2.1 seconds, ending the game in under 9.45 seconds (of course, plus the time it takes to mine to U-Spread and max out damage). A Level 4 base is not much harder to kill. 8 U-Spreads can kill a Level 4 depot in 4.22 seconds, and a Level 4 spawn module in 2.89 seconds, ending the game in 14.23 seconds.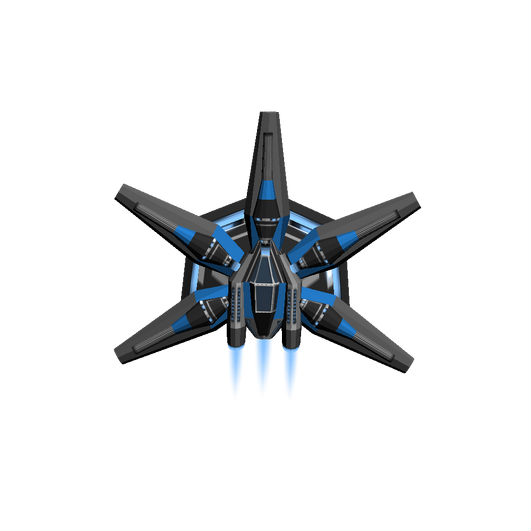 Despite its name, it doesn't resemble a U.
Cannons
[
]
| Type | Energy Per Shot (Min/Max): | Damage (Min/Max): | Velocity (Min/Max): | Mirrored: | Recoil: | Frequency: | Error: | Bullets Spread Angle (Degree(s)): | # Of Lasers: |
| --- | --- | --- | --- | --- | --- | --- | --- | --- | --- |
| Pulse | 40/60 | 40/60 | 190/240 | false | 50 | 4 | 0 | 0 | 1 |
| Type | Energy Per Shot (Min/Max): | Damage (Min/Max): | Velocity (Min/Max): | Mirrored: | Recoil: | Frequency: | Error: | Bullets Spread Angle (Degree(s)): | # Of Lasers: |
| --- | --- | --- | --- | --- | --- | --- | --- | --- | --- |
| Pulse | 140/200 | 70/100 | 190/240 | true | 100 | 2 | 0 | 0 | 1 |
| Type | Energy Per Shot (Min/Max): | Damage (Min/Max): | Velocity (Min/Max): | Mirrored: | Recoil: | Frequency: | Error: | Bullets Spread Angle (Degree(s)): | # Of Lasers: |
| --- | --- | --- | --- | --- | --- | --- | --- | --- | --- |
| Pulse | 140/200 | 70/100 | 190/240 | true | 100 | 2 | 0 | 0 | 1 |
Closest upgrade path (U-Series)
Upgrades from
Upgrades to